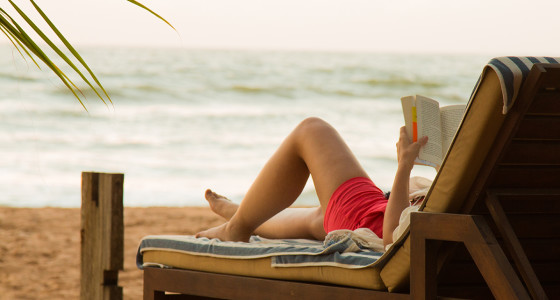 We all love a good summer read. Whether we're chilling on the beach or in the garden, the best summer reads are breezy and inspiring - and our picks for this summer could also make you rich! These titles are ideal for entrepreneurial people looking to up their game in 2017. Read on for our favourites and don't forget to leave your recommendations in the comments.
Tools of Titans by Tim Ferriss
Tools of Titans collects advice, wisdom, and actionable tasks from a number of successful people in business and beyond. Tim Ferriss has curated the most useful tips and tricks from numerous interviews and personally swears by each idea.
Tools of Titans focuses mainly on things that you can actually do right now. Instead of vague guidelines or wise metaphors, this book provides physical tasks, like specific workout routines, reading recommendations, and morning routines.
Many people - including Ferriss himself - vouch for these tasks. Ferriss even states that by incorporating these tools into his life, he's "made millions". So while you're away this summer, grab a copy, dive in, and see if you can stand with the titans too.
Big Magic by Elizabeth Gilbert
Big Magic made a big splash amongst creative audiences on its release. This book by the author of Eat, Pray, Love is all about tapping into and harnessing your creative energy. Elizabeth Gilbert believes that our creativity is our route to success, but too often we get scared and hold back.
Big Magic looks at the attitudes and habits that we can adapt to be more creative. Gilbert suggests that by allowing ourselves an outlet for our inspiration, we can make a big difference in our lives and careers.
Big Magic is an easy read and one that will leave you feeling motivated and ready to tackle your next big project. It's a must for entrepreneurs and anyone who wants to level up their creativity.
Unshakeable by Tony Robbins
Tony Robbins is one of the world's most prolific inspirational speakers and life coaches. His latest book is called Unshakeable. In it, he talks about money, investments, and financial planning.
Maybe this sounds a bit much for a holiday read but Robbins has specifically designed this book to be short, accessible, and easy to understand. It's like an overview of how you could be making the most of your money, growing it over time.
With a handy guide to financial terms, how to approach the stock market, and how many people end up paying hidden fees for years, this book could get you on your way to better money management - and a fatter wallet.
Creativity, Inc. by Ed Catmull
Creativity, Inc. was written by Pixar co-founder Ed Catmull so right off the bat, you know this book will have some great insights into business and creativity. Catmull discusses the different methods that Pixar have used in their own creative - and financial - success.
Aimed at managers, this book is also great for anyone in a team (or setting one up!) Creativity, Inc. focuses on the importance of story, ideas, and risk-taking in any creative and business endeavour. Catmull explains that, at Pixar, risk wins out every time; they believe that it's better to make then fix errors than to waste time and creative energy trying to avoid mistakes.
This book features advice for team leaders and anyone who wants to make a difference within their organisation. Creativity, Inc. is likely to inspire any creative mind alongside any leader - plus it's from the co-founder of Pixar so you know it'll be a fun read.
Never Split the Difference by Chris Voss
On the surface, Never Split the Difference might seem a bit niche. It's about negotiating from an author who has been in many high-stakes situations. However, negotiation is something we do every day in far more mundane ways than you might first think.
From buying your car to buying your house, from asking for a raise to managing your next project, and even when navigating a decision with your partner, we need to negotiate throughout our lives.
Chris Voss outlines the techniques and methods that will help you to gain a persuasive edge and ensure that you come away from each daily negotiation with exactly what you want and need. This empowering read is sure to fire you up this summer - and maybe even get you a discount on that next holiday cocktail!
Option B by Sheryl Sandberg
Option B is a book from Facebook COO Sheryl Sandberg, who faced tragedy in the sudden death of her husband. This book will almost definitely tug at your heartstrings but it could also provide you with wisdom on resilience and crisis management.
Sandberg explains the effect that her own struggle had on her, and how she managed to rebuild and find strength and joy once again. By focussing on practicable actions and habits, like journalling, Option B will help you tap into the inner compassion and resilience that we're all capable of.
Sandberg's advice can be applied to your work, your personal life, your family life, and beyond. We all face hard times and sometimes this can get in the way of success. Option B will remind you how to be strong in spite of the struggle, and put you back on the path to achievement.
Have you read any of these books or have you got something else in your suitcase this summer? Let us know what you think in the comments or pass on any other recommendations you might have.